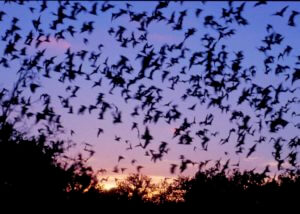 Mexican free-tail bats (Tadarida brasiliensis), one of the 10 largest populations in the world. These bats are insectivores, consuming between 10 and 20 tons of insects daily. Near dusk each evening, the bats emerge from the cave in a rushing and seemingly endless stream to feed.
Of the many caves in the Mexican free-tails' summer range, the Eckert James River Cave is one of the few that satisfies the exacting demands as a nursery. In April 1990, The Nature Conservancy of Texas (TNC) and Bat Conservation International (BCI) acquired the cave, partly as a gift from Richard Eckert and Virginia Eckert Garrett and partly by purchase. The common goals of TNC and BCI are to protect the bats and their habitat and to provide access for the public to visit and witness the dramatic nightly emergence in a manner consistent with protection and safety of the bats and the visitors.
You can visit the Preserve Thursday through Sunday evenings throughout the season (mid-May to mid-October). The Conservancy's Preserve Manager will be at the site to provide information and assistance to visitors. Tour arrangements can be made by calling (325) 347-5970 during the season or (512)263-8878 off season.
Emergence time varies throughout the season and, to a lesser extent, from day to day. When you call, the Preserve Manager can let you know recent times of emergence. Benches have been provided for seating near the cave entrance. No other facilities are available. The cave is about 1,500 feet from the parking area; the trail leads over a slight incline and is not wheelchair accessible.
Eckert James River Bat Cave- Presentation times!
Open Thursday, Friday, Saturday and Sunday
For information on arrival times please call: 325-347-5970
Don't forget your flashlight!
*NO PETS, ALCOHOL CONSUMPTION, OR SMOKING ALLOWED ON THE PRESERVE*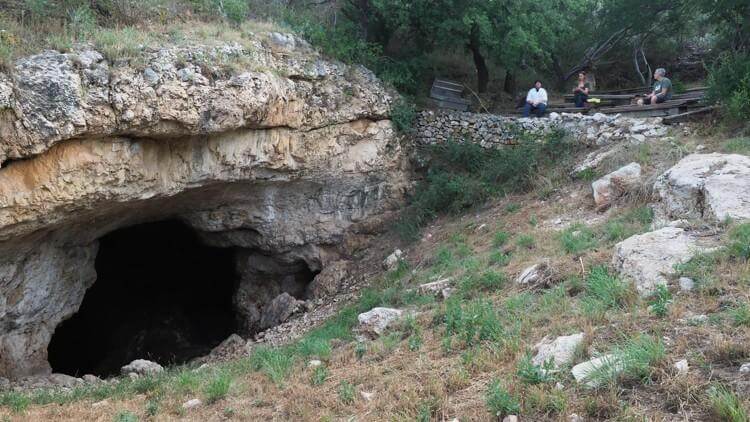 Directions to Eckert James River Bat Cave Preserve
Take US Hwy 87 south from the Mason County Courthouse approx. 1 mile.
Turn right on RR 1723 at the roadside park.
Go 2 miles and turn right on RR 2389.
Go 4.5 miles and cross Llano River double bridge.
After crossing second bridge, turn sharp right, staying on paved road.
Follow road for 8.3 miles (it becomes unpaved road; keep going)
Cross wide James River low water crossing and continue 3/10 mile to cattle guard
Sign points to parking area for Bat Cave on the right.
All the property along James River Road is private land. Please do not trespass. Watch for wild animals and cattle on the road, particularly at night.