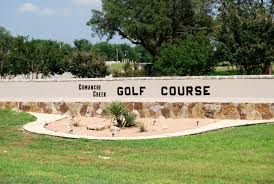 Please check the chamber calendar for upcoming golf tournaments!
Located in Fort Mason Park:
Comanche Creek Rd
Mason, Texas 76856
Mason County
Ph: 325-347-5798
Comanche Creek is a tidy 9-hole layout that rolls through Fort Mason Park, the same pleasant setting that is home to Mason's football stadium, community center, and rodeo arena. This is a simple track with minimal hazards that will build the confidence of the average golfer, and is a great place for those just learning the game. The course is well maintained and the fairways and greens are in excellent condition.
The terrain is mostly flat, but does feature some mounding. The greens are small and elevated. It's a great course to walk.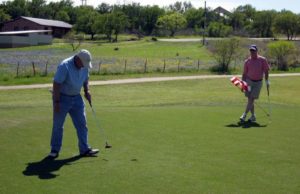 Hole 9 has the only water hazard, a 563-yard par 5 that features a pond fronting the green. Average golfers have good chances for birdie on holes 5-7. The stretch starts with a 454-yard par 5, and is followed by a 300-yard par 4 and a short par 3. You'll need to score well to give yourself some room for slip-ups on the difficult finisher.