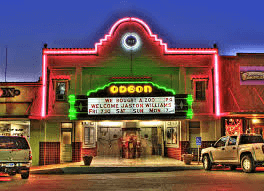 Remember Saturday nights watching the latest movie in a darkened theater? Remember when that theater only showed ONE movie? At the restored Odeon Theater, we remember, and we want you to experience the fun and innocence of those times.
In addition to first-run movies, the Odeon has special musical events and other entertainment. The admission is far below what you would pay at the 12-screen Cineplex, and the experience is infinitely more memorable. We're still restoring this beautiful old theater to its original glory; but we wanted to share it with everyone as a work-in-progress. We think you'll be impressed!
The Odeon show times are: Friday at 7:30 p.m.; Saturday, Sunday and Monday at 7:00 p.m.
Click here for the upcoming events at the Odeon Theater!